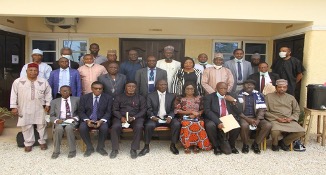 Medical And Dental Council Of Nigeria Visits Bingham University College Of Medicine For Reaccreditation Exercise
Published on: Mar 5th, 2021
The Medical and Dental Council of Nigeria recently visited the University's College of Medicine to carry out a re-accreditation exercise.
The exercise is a regular re-assessment of the professional accreditation status of the college following the expiration of the five years statutory period earlier granted the College.
The team visiting the Faculty of Basic Medical Sciences at the Karu main campus, led by Prof. M. I. Ajao, paid a courtesy visit to the Vice-Chancellor, Prof. W. B. Qurix, OFR, in his office before embarking on the exercise. Prof. Ajao stated that their mission in the University was to access the staffing and infrastructure of the College as it concerns the Faculty of Basic Medical Sciences which is primarily concerned with pre-clinical training.
The Vice-Chancellor on his part welcomed the team and assured them of his support towards the success of the exercise.
On arrival at the Jos campus of the College where the faculties of Basic Clinical Sciences and Clinical Sciences are located, the Registrar of the Medical and Dental Council, Dr. T. A. B. Sanusi and his team were received by the Provost of the College of Medicine and Health Sciences, Prof. Alhassan M. Yakubu, who warmly welcomed the team and pledged his support towards the success of the exercise.
While, meeting with Management and members of staff of Bingham University College of Medicine and Health Sciences, the Registrar MDCN, encouraged them to see the MDCN and Bingham University as partners in the assessment as it is done to enable the college identify areas of strengths as well as areas needing improvement for a better future of the medical profession. "Different groups of the MDCN team are to scrutinize services of the College and thereafter collation of the results would be carried out" he said.
The team which was led by the MDCN Registrar, Dr. T. A. B. Sanusi, had Dr. N. U. Nwakanma, Deputy Registrar MDCN, Prof. G. B. S. Iyalomhe, Prof. E. J. C. Nwana, Prof. H. Obu, Prof. C. O. Alebiosu, Prof. F. Uba, Prof. B. Bako, Dr. H. Agbo and Mr. D. D.Tyovenda as part of the team. Others are Prof. M. S. Ajao, Prof. G. F. Ibironke, Dr. Idris Mohammed and Mr. S. O. Saliu.