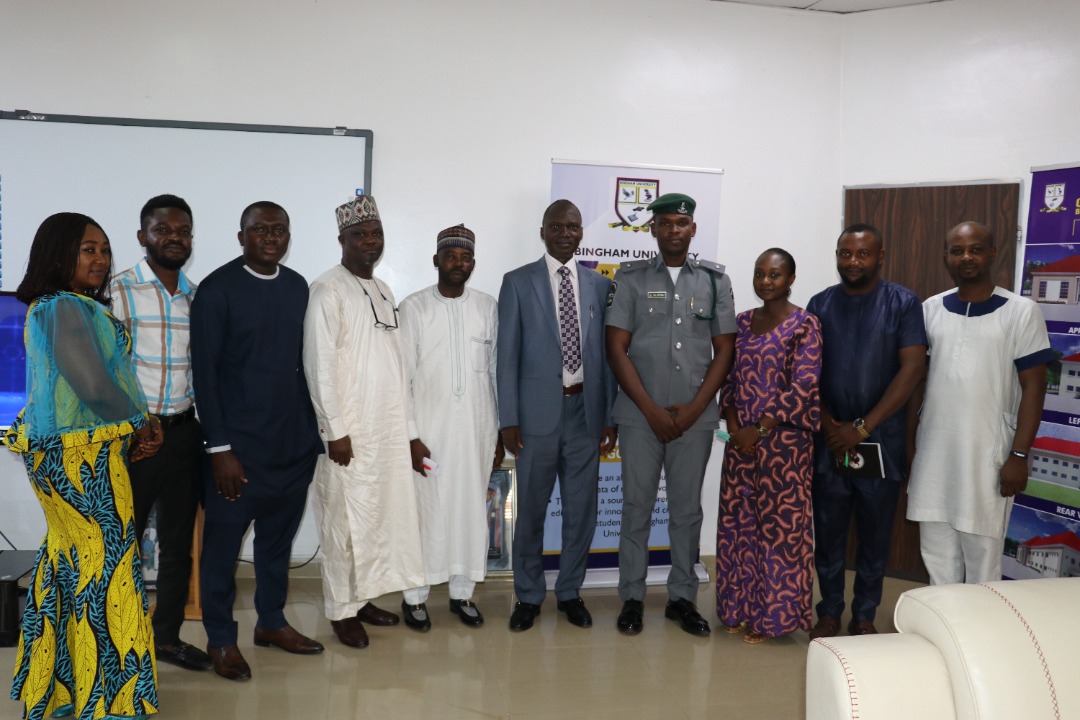 Alumni Association Of Bingham University Pays Courtesy Visit To The Vice-Chancellor
Published on: May 25th, 2022
The Executive of the Alumni Association of Bingham University (AABHU) paid a courtesy visit to the Vice-Chancellor. The visit was led by the Coordinator, Advancement Unit Dr. Abayomi Awujola. The purpose of the visit was to seek areas where the Association can assist the University and to share the lined up activities the association had for the year.

Speaking during the visit, the National President of the Association, Assistant Superintendent of Customs, Artimas Kingsley, appreciated the Vice-chancellor for giving them audience; he stated that they intend to start a project in the University and also to have an Award Night among others.

Artimas added that they would appreciate it if the University will carry the Association along in her activities so that they can actively participate especially in Matriculations and Convocations and stressed the need for a Secretariat.

The Vice-Chancellor, Prof William B. Qurix OFR, expressed appreciation for the timely visit and stressed the need to grow the association. He stated that the Alumni Association is an important part of the University and charged the association to continually seek areas where they can assist the University as the needs of the University continues to grow. He added that the University is in dire need of additional female hostels, installation of inverters in the hostels, construction of surface roads within the University and to donate funds into the already established Endowment Fund.

He stated that the Endowment Fund is intended for investment purposes which will in the long term yield returns that will take care of the future needs of the University.

Prof Qurix in his final remarks assured the Association that they will be constantly engaged in the University's activities so as to improve the Alumni's partnership with the University.
In attendance were also the Coordinators of the Postgraduate Alumni