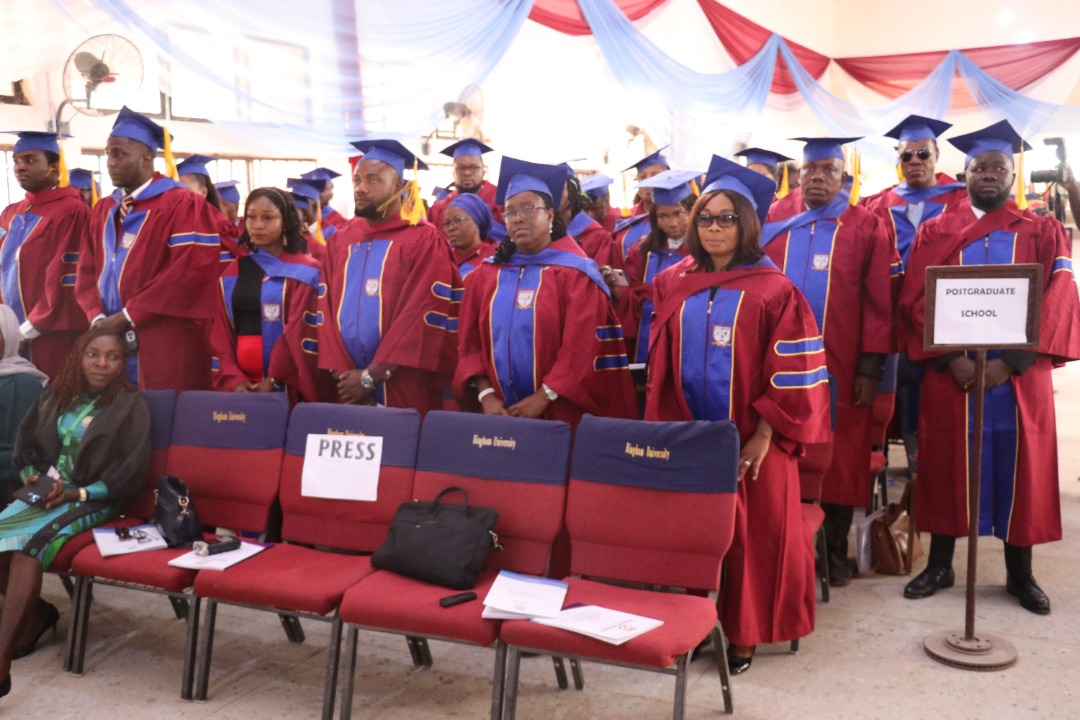 Bingham University Graduates 2,577 Students At Its 4Th Combined Convocation Ceremony,78 Bag First Class
Published on: Nov 16th, 2022
BINGHAM UNIVERSITY GRADUATES 2,577 STUDENTS AT ITS 4TH COMBINED CONVOCATION CEREMONY,78 BAG FIRST CLASS.

Bingham University, held its 4th Combined Convocation ceremony for the award of First degrees, Postgraduate Diplomas, Masters Degrees and conferment of Honorary Degree.

Speaking at the event, the Vice-Chancellor Prof.W.B Qurix ,OFR stated that the ceremony is a culmination of challenges and rewarding experiences. He was delighted to see pride on the faces of graduands and their parents who have supported them financially and emotionally throughout their journey in the University. He added that the University is proud to send all those who are graduating into the world to be Doctors, Pharmacist, Sociologist, Lawyers, Nurses, Entreprenuers and so forth.

The Vice-Chancellor in his remarks stated that a total of 2,250 undergraduate students and 327 postgraduate students are convocating for the 4 sets. 78 students bagged first class, 586 Second class upper, 843 Second class lower, 512 third class, 8 pass and 223 Medical Doctors.

The Vice-Chancellor said that aside the conventional academic programmes, the University had established centres for the purpose of providing hands-on training, practical exposure, and knowledge base for industries for our teeming students as follows: Entrepreneurship, leadership and Innovation centre; Health Centre; Information and computer technology centre; Counselling Unit; Gender Studies Unit and others.

Prof. Qurix said that the Office of Research and Development at the University is equipping researchers and Scientists in the University with knowledge and ability they need to turn cutting edge research into brilliant proposals to attract grants in the University which has been largely successful. He added that on the whole, the University has realized in the last 5years N27M, $1.731M USD, €1.41M Euros and £1.08M Pounds.

Prof. Quirix stated that the University's partnership and collaboration has increased significantly. Active collaborations includes: Sumy State University Ukraine, Liverpool School of Tropical Medicine, University of Wolverhampton UK, University of Buffalo USA, Global Studio for African Centered Architecture, Amboss Gmbh Germany, Jonah Inheritance USA and the Jennifer Etuh Foundation Nigeria.

The Vice-Chancellor stated that despite meager resources, the University has been able to significantly expand additional facilities in both campuses such as: constructed road networks within the University, constructed Faculty of Basic Medical Sciences building, 660 capacity Ultra-Modern students hostel,38 room students Hostel at the Jos Campus ,constructed Entrance Bridge, constructed portfolio hostel, purchase of medical equipment,New University Gate house amongst others.
Prof Qurix congratulated the graduating students and charged them to put into effect the principles and guidelines that they have learnt which is clearly communicated in the Mission and Vision of the University, display Christian Values and explore entrepreneur skills.

On his part, the Pro-Chancellor and Chairman, Governing Council, Gen. (rtd) Martin Luther Agwai, CFR was filled with delight on the occasion of the 4th Combined Convocation. He added that a nation's human resources are its most important asset. He assured the graduands that wherever they go, Bingham University will continue to support them as they project the University's Mission and Vision.

The Chairman BOT and ECWA President,Rev.(Dr.) Stephen Panya Baba,while speaking to the graduands stated that today marks a tremendous milestone and a huge accomplishment which has taken years of dedication, perseverance and sacrifice. He urged them to stay connected with their Alma Mater so as to share their experiences with new students to inspire and give them an advantage in life.

Thereafter the Chancellor of the University, His Royal highness Esu Karu, Pharm. (Dr) Luka Panya Baba conferred on the Graduands their respective degrees .
Eng. Festus Narai Daudu was conferred the Honorary Doctorate Degree of Science (D.Sc) Honoris Causa for his numerous contributions to society.

Dignitaries in attendance at the occasion were: Deputy Governor of Gombe State,His Excellency, Manassah Jatau,Ph.D, 13 visiting Vice-Chancellors, ECWA Executive, Royal Fathers amongst others.