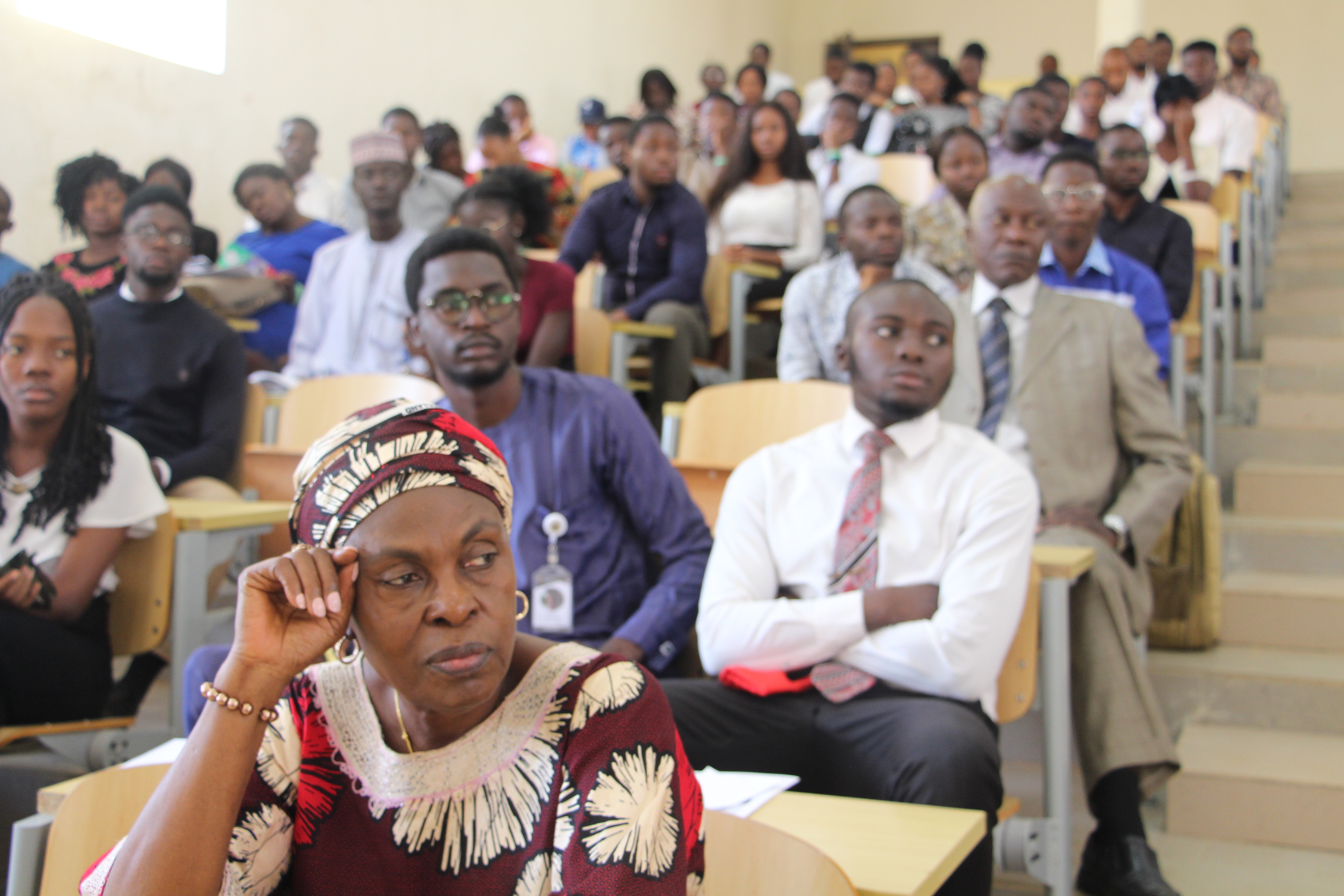 Bingham University Hosts Student Anti Corruption Vanguard Lecture, Inaugurates Executives And Club Members
Published on: Dec 12th, 2019
Bingham University recently hosted a lecture for the Students Anti-Corruption Vanguard club, organised by the Independent Corrupt and Other Related Offences Commission (ICPC), tagged "Corruption a Dream Killer" where new executives and club members were inaugurated.
While giving his remarks the Deputy Vice- Chancellor Prof Alexander Adelaiye who represented the Vice-Chancellor Prof William Qurix OFR stated that the management and the students of the university are in support of the vision and mission of ICPC.
"Being a faith based institution the values of Bingham University are in tandem with that of ICPC therefore we have zero tolerance against any corrupt behaviour" He said
Prof Adelaiye added that Bingham university is working with ICPC to ensure that we have a corrupt free environment. The Deputy Vice-Chancellor said that corruption is a canker worm and we are doing all we can to contribute to a corrupt free society.
Speaking at the event, the Dean students' affairs DR. Jonathan Oniore stated that the students are ready to key into the vision of the Student Anti-Corruption Vanguard. The Dean stated that anything which is wrong in the eyes of morality is corruption. The Dean lamented that corruption has now become a culture in our society. He urged the students to key into the vision of the club so that they can be good ambassadors within and without the university.
The guest speaker Mr. Mfon Umoh, said that every dream can be shattered if the monster called corruption is not fought. "Corruption is the major hindrance to development in any society" He said
Mr. Umoh pointed out that the popular narrative that stipulates that only embezzlement of public funds is corruption is wrong. He added that actions like nepotism, examination malpractice, lack of accountability to parents, falsification of results amongst others are corrupt practices.
"Most youths engage in corrupt practices such as examination malpractice, sex for marks and cultism on campus amongst other vices" He said. He said that "Corruption amongst students lowers the standard of education, kills academic dreams and bastardizes academic certificates abroad". He added that greed, peer pressure and the quest to succeed at all cost can push students into corrupt practices.
Mr. Umoh challenged Bingham University students to shun all these vices because the effects are disastrous and has the capacity to shatter their dreams. He stated that in ICPC'S efforts to halt the marauding monster called corruption, the commission has allotted sanctions to anyone that is found guilty of any form or type of corruption. He advised students not to only stay clear of the destructive behavior, but they should be change agents starting from their immediate environment.
On the side-lines, oath was administered to new members of the club in the university as well as the newly elected executives of the club.