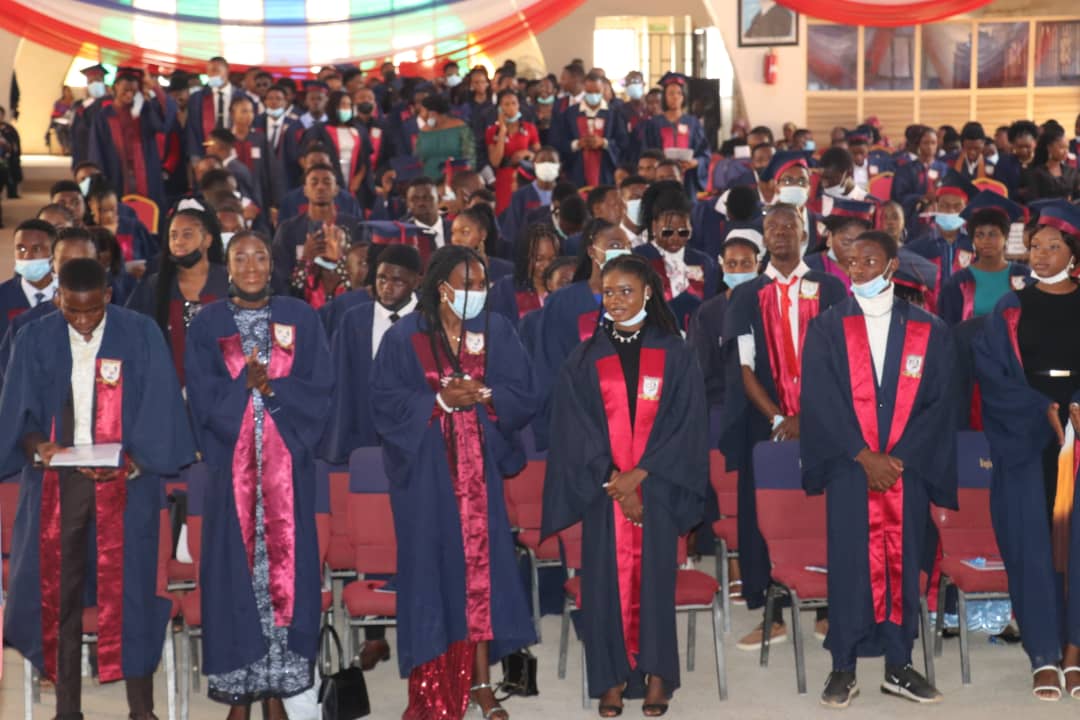 Bingham University Matriculates 1,980 Fresh Intakes
Published on: Feb 22nd, 2022
Bingham University recently matriculated fresh undergraduate and postgraduate students into various programmes across its 11 faculties for the 2021/2022 academic session.

The figures represent 1,560 undergraduate and 420 postgraduate students which bring the total to 1,980.

The Vice-Chancellor, Prof W.B Qurix, while congratulating the matriculants for gaining admission into the University, implored them to make judicious and optimal use of all opportunities at their disposal during their sojourn in the University.

Prof Qurix stressed that the University will continue to pursue excellence in all facets in line with its Vision and Mission to become a world class University in knowledge and skills, while inculcating moral and spiritual values; and its Mission to produce graduates that are excellent in knowledge, character and skill for self-reliance in the fear of Christ.

Speaking further, the Vice-Chancellor stated that the University currently operates a total of 64 academic programmes, with 46 established in the last 4 years. In addition, the University has also commenced Part-time degrees programmes in Sociology, Accounting, Business Administration, Economics, English, Mass Communication, Political Science and Computer Science. This is all in its bid to increase access to education.

Prof. Qurix also mentioned that the University received both NUC and Professional accreditation for the Faculty of law, MBBS programme, Nursing Sciences among many others.

He added that the University has over the past 4years witnessed rapid academic developments with 16 Staff promoted to the rank of Professors and 22 staff promoted from Senior Lecturers to Associate Professors among many promotions to several cadres. These promotions were with effect from the 2020/2021 and 2021/2022 Academic Sessions.

In the area of infrastructure and facilities, he mentioned that new hostels have been built both in the Karu and Jos campuses, brand new 500kva transformer and 500kva generator purchased and installed, the construction of 2 lecture halls and a conference room at the Jos Campus for medical students, built additional offices and class rooms for the Department of Mass Communication, construction of an Auditorium in the Faculty of Environmental Sciences, construction of a bridge at the main gate of the University, among many others. He also mentioned on-going works at the entrance road as well as landscaping and beautification of the campus environment.

Prof Qurix said the University continues to benefit from collaboration with reputable International and local Institutions such as Sumy State University, Ukraine; Liverpool School of Tropical Medicine (LSTM) UK, University of Wolverhampton UK and the Global Studio for African Centered Architecture, Nigerian Building and Road Research Institute, among others.

He added that the University has won several grants as a result of these Collaborations with other Institutions such as N50m grant won by a staff of the university for Covid-19 research from the Central Bank of Nigeria, £1,000,000 grant from the Liverpool School of Tropical Medicine in the United Kingdom for the LIGHT CONSORTIUM project, among others.

Prof Qurix informed the students that the University being a faith-based University has zero tolerance for any form of social vices such as cultism, drug abuse and others, as anyone found wanting would be sanctioned accordingly. He added that the University has rules and regulations guiding the conduct of students and they are expected to familiarize themselves with these regulations and abide strictly to them.

On some of the challenges confronting the University, Prof Qurix was particular about student's accommodation where he stated that efforts are being made to improve living conditions.
In addition, he said that University is not unaware of the general security challenges confronting the entire Nation; he stated that several security measures in collaboration with other security agencies have been put in place.

The Guest Speaker, Prof Andrew Zamani of Nasarawa State University,Keffi, spoke on the topic "Psychology of Self Development", he enjoined students to have a clear sense of personal identity and autonomy.

He urged students to commit themselves to their studies and diversify learning opportunities; utilize opportunities to cultivate healthy and meaningful relationships; develop leadership capacities by participating in formal group meetings like clubs and associations.He also advised them to seek counseling from trusted friends, elderly persons or school counselors for decision making and problem solving solutions; and to ensure they resolve confusing career choice issues by the time they complete their studies.

He added that self-development requires a
sense of independence, maturity and positive mind-set that thrives on determination and strong will.

High point of the event was the administration of matriculation Oath on the students by the Registrar, Mrs. Esther J. Dyaji.

In attendance at the event were the Chancellor and Esu Karu,HRH Pharm.(Dr) Luka P.Baba,Dr James Angbazo and host of other dignitaries.