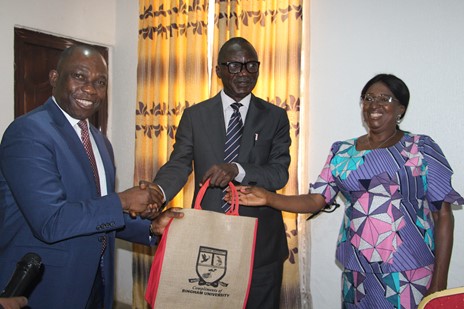 Dg Nigerian Copyright Comission Visits Bingham University
Published on: Nov 23rd, 2020
The Director-General of the Nigerian Copy Right Commission, Mr. John Asien, accompanied by a team of Directors, recently paid a courtesy visit to Bingham University Karu campus to acquaint the university with the activities of the Nigerian Copyright Commission and to seek areas of partnership.
In his remarks, the Director-General expressed delight with the caliber of officers the Vice-Chancellor was receiving his team with.
Mr. Asien congratulated the Vice-Chancellor, Prof. W.B Qurix, OFR on his recent appointment as a member of the 7-man Committee of the Nigerian National Merit Award (NNMA) and applauded the University for the strides made in recent times and for being one of the most sought out private universities in Nigeria.
Speaking further, "Bingham University is exploring innovations which is very encouraging", sighting the example of the construction of the Essential Oil Plant which has produced an environmentally friendly mosquito repellant.
At the moment, the Commission's primary mandate is promoting, administering, protecting, regulating and enforcing copy right standard in Nigeria" he said.
Mr. Asien stated that the Commission had begun enforcing its primary mandate by speaking with the Association of Vice Chancellors of Nigerian Universities and plans to further embark on sensitization of students about modern intellectual property right, to educate the students about where their rights starts and where it ends.
The Vice-Chancellor, Prof. W.B Qurix, OFR in his response expressed gratitude to the Director-General and his team for his commendation and extension of friendship to the University.
"We feel highly humbled by your interest in Bingham University, rather than we coming to you, you chose to look out for us. I hope that this partnership yields a lot of good fruits" he said.
Prof. Qurix noted that one amongst the many things Bingham University is doing includes, placing focus on research, development and innovation and that the Nigerian Copyright Commission is the fuel that drives the vehicle for development in Nigeria.
The Vice-Chancellor welcomed the partnership of the Nigerian Copyright Commission and looked forward to fruitful collaborations.
In attendance at the meeting were the Registrar, Mrs. Esther J. Dyaji, University Librarian, Dr. Dan Ajibili, Director of Academic Planning, Prof. Nuhu Gado, Dean of Law, Prof Onje-Gyado amongst others.