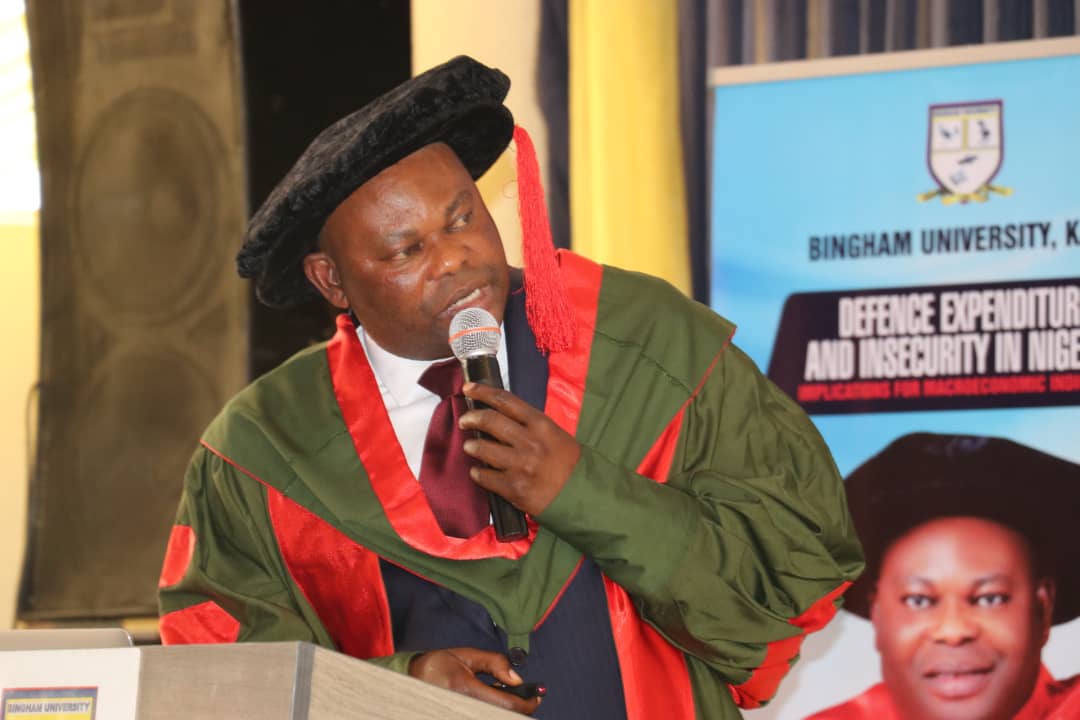 Prof. Aiyedogbon Delievers Bingham University's 5Th Inaugural Lecture Advocates More Funding For The Military
Published on: Mar 1st, 2022
Bingham University recently held its 5th Inaugural lecture titled "Defence Expenditure and Insecurity in Nigeria: Implications for Macroeconomic Indicators", which was delivered by Professor John Olu-Coris Aiyedogbon, a professor of Public Finance of the Department of Economics.

The Vice-Chancellor, Prof W.B. Qurix, OFR represented by the Deputy Vice-Chancellor, Prof Dul Johnson in his remark noted that the University is no longer a young University and has evolved into an institution of high repute. "A University that is almost 20 years with a student population of about 5,000 and over 30 full Professors among many more academics is certainly a University that has come of age," the Vice-Chancellor added.

The Vice-Chancellor harped on the importance of inaugural lectures as a vital part of the University culture and called on all academics that have attained the rank of professor to key in.

Prof John Olu-Coris Aiyedogbon, in his lecture called for increase in funding of the military in the face of insecurity in the country. He urged the government to monitor the spending in ensuring accountability and transparency in its budget and procurement procedures.

Prof. Aiyedogbon also identified poverty and unemployment as drivers of insecurity, and the need for government to improve the economic situation of the country. According to him, the welfare of the citizens should be ranked first among the responsibility of the government and also the allocation for the military should be urgently reviewed.

In his final note, Prof Aiyedogbon said "excessive military expenditure without corresponding outcomes amounts to waste of limited resources". He advocated that competent and experienced security Chiefs should be given command of the Arm forces irrespective of tribe or religion.

In attendance were the Registrar; Mrs. Esther Djayi, University Librarian; Dr. Dan Ajibili, Members of Senate and Management Committee, Invited guests, family and friends of the inaugural lecturer.