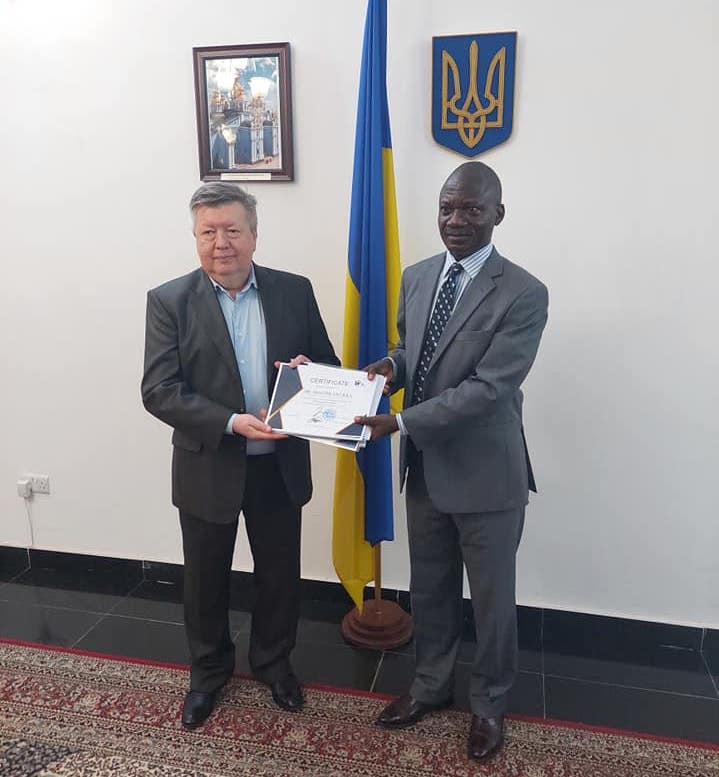 Vice-Chancellor Visits Ukraine Ambassador, Receives Certificates For Economics Students
Published on: Jul 5th, 2021
The Vice-Chancellor, Prof.W.B Qurix recently visited the new Ukrainian Ambassador, His Excellency,Mr Valerii Kirdoda, where he congratulated him on his recent posting to Nigeria and sought his continous support in furtherance of the existing partnership between the University and Sumy State University Ukraine.
The Vice-Chancellor who received certificates from the Ambassador on behalf of the 35 Economics students of Bingham University who recently participated and concluded a 3 months online training in Cyber Security Economics ,thanked him for delivering the certificates on behalf of the management of Sumy State University.
The Ambassador in his response ,thanked the Vice-Chancellor for the visit and assured him of his continuous support of the partnership between the two universities.
It will be recalled that Sumy State University, Ukraine and Bingham University had signed an MoU for collaborations in the area of Staff Exchange and Students Academic Mobility since 2019.
The Vice-Chancellor was accompanied by the Director Public Affairs,Mr Daburi Misal,Coordinator Advancement and Linkages, Miss.Monica Ankeli and HoD Economics, Dr Abayomi Awujola.