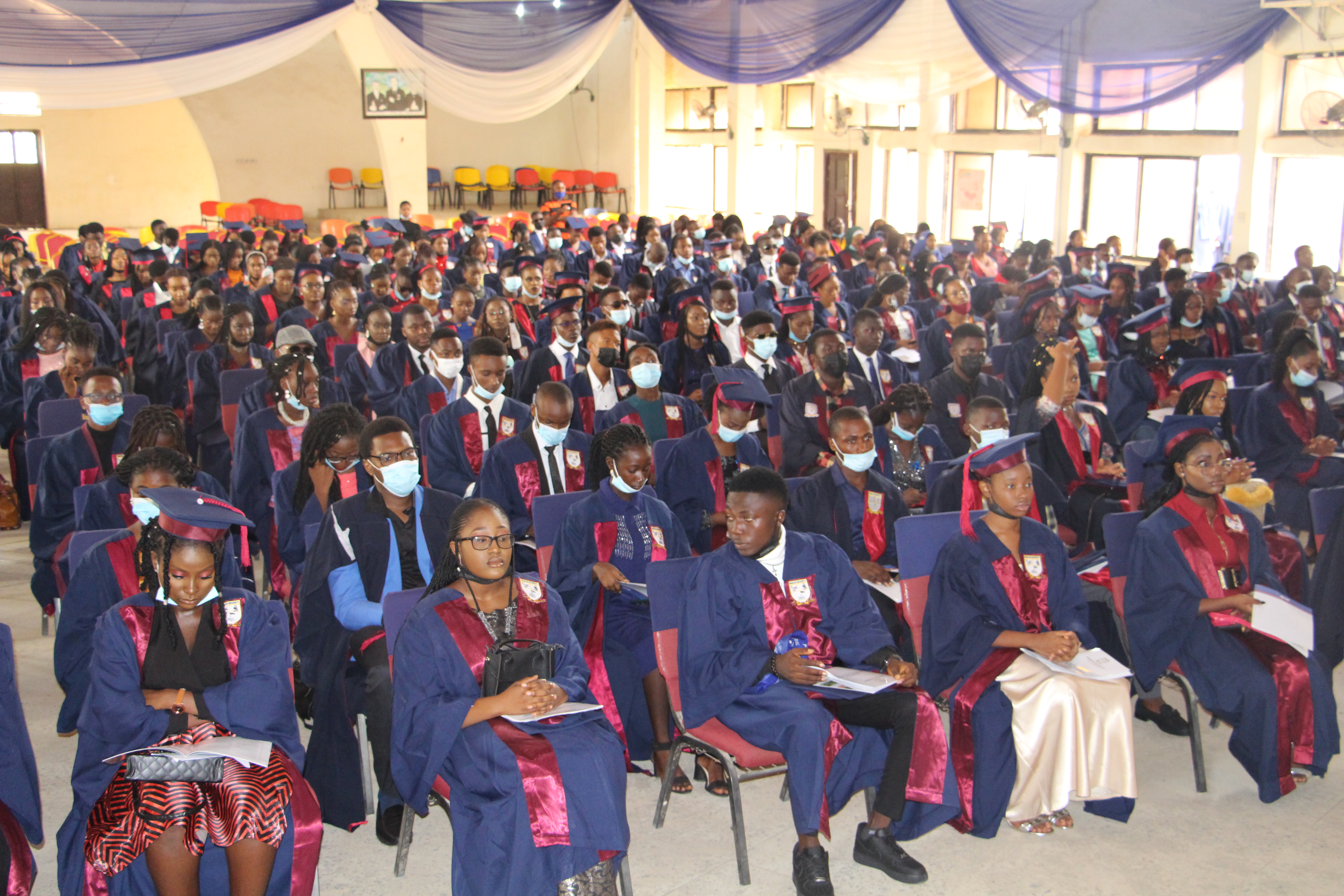 Bingham University Matriculates 1,764 Undergraduate And Postgraduate Fresh Intakes
Published on: Jun 9th, 2021
Bingham University recently matriculated 1,764 fresh undergraduate and postgraduate students into various undergraduate and postgraduate programmes across its 11 faculties for the 2020/2021 academic session.
The figure represented 1,377 undergraduate and 387 postgraduate students.
The Vice-Chancellor, Prof. W. B. Qurix, while congratulating the matriculants for gaining admission into the University, cited the College of Medicine and Health Sciences and Faculty of Science and Technology as having the highest number of undergraduate students with 530 and 239 respectively.
Others are Social Science with 232, Administration 122, Pharmacy 87, Law 76, Environmental Sciences 59, Arts 22 and Education 10 students.
In his remarks, Prof. Qurix stressed that the University would continue to pursue excellence in all aspects in line with its vision; to become a world class university in knowledge and skills while inculcating moral and spiritual values; and its mission to produce graduates that are excellent in knowledge, character and skill for self-reliance in the fear of God.
Speaking further, the Vice-Chancellor stated that the University currently operated a total of 64 academic programmes, with 46 established in the last 3 years to the glory of God.
Qurix stated that in recognition of the benefits of collaboration and transnational learning, the University continued to collaborate with reputable international and local institutions.
He cited such institutions the University was collaborating with to include; Sumy State University, Ukraine, Liverpool School of Tropical Medicine (LSTM) UK, University of Wolverhampton UK and the Global Studio for African Centered Architecture amongst others.
Prof. Qurix stated that as a faith based institution, Bingham University had zero tolerance for any form of social vices and it was expected of them to abide by the rules and regulations and shun any form of social vice. "Anyone caught involved in cultism, drug abuse, indecent dressing, among others would be sanctioned accordingly", he warned.
Qurix also advised the students to refrain from abusing the freedom and privileges of being in the University, as they would be held accountable for their actions and inactions.
On the security challenges bedeviling the Nation, the Vice-Chancellor said the University was very much aware and management would continue to work assiduously to put required measures in place to secure lives and properties of all its staff and students.
A cross section of matriculants at the ceremony
The guest speaker, Prof. Raymond Bako of the Faculty of Education, Ahmadu Bello University, Zaria, spoke on the topic "Balancing your Academic, Social and Spiritual life on Campus."
Prof. Bako, urged the students to reflect on their lives and recommit themselves to serving God by making the right decisions that will allow them succeed in life.
Bako also called on the students to avoid all social vices, including sexual immorality and get rich quick activities.
High point of the event was the administration of the matriculation oath on the students by the Registrar, Mrs. Esther J. Dyaji.