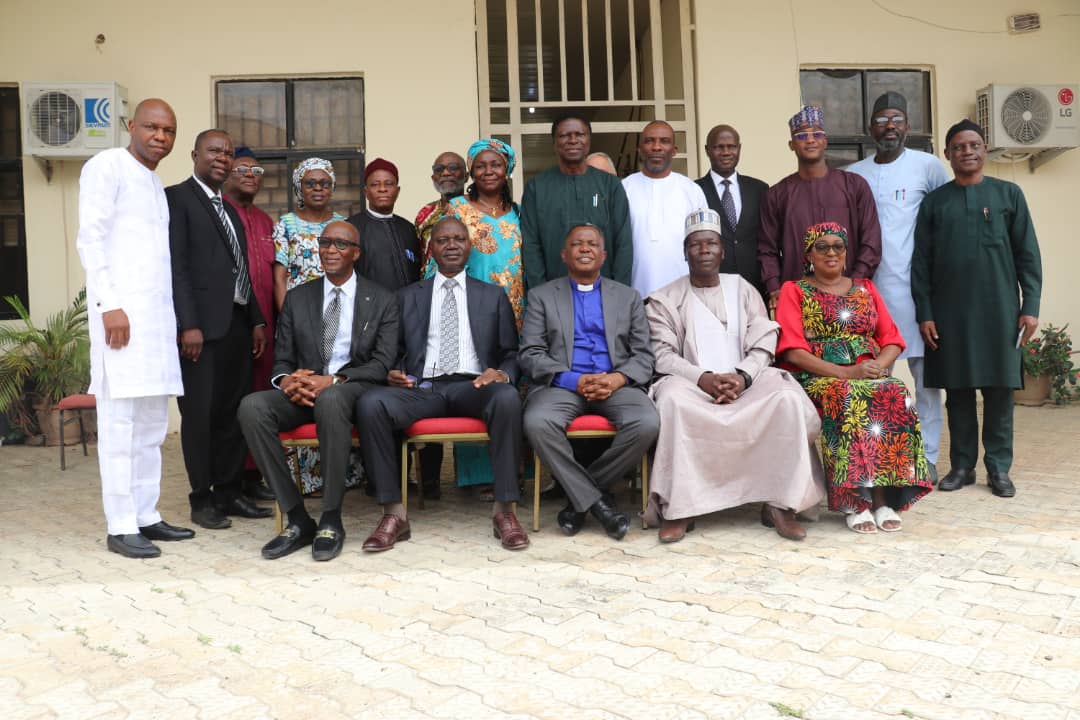 Chairman Bingham University Bot Inaugurates New Governing Council
Published on: Apr 26th, 2023
CHAIRMAN BINGHAM UNIVERSITY BOT INAUGURATES NEW GOVERNING COUNCIL

The Chairman of the Board of Trustees of Bingham University and President of ECWA, Rev (Dr.) Stephen Panya Baba recently inaugurated the 6th Governing Council of Bingham University.

Speaking during the inauguration, the Chairman of the Board of Trustees and ECWA President Rev. Dr. Stephen Panya Baba thanked the outgone Council for their exemplary service to the University by steering the ship of the University out of a turbulent period and restoring the image of the University. While congratulating the incoming Council for being found worthy to be appointed as Council members, he reminded them that this was a call to service and wished them a very successful tenure.

The new members of Council are: Professor Andrew Haruna, FNAL, FLAN, Chairman, Prof. William B. Qurix, Vice-Chancellor/ member, Prof. Dul Johnson, member, Professor Kolade Luka Ayorinde, member, Associate Prof. Suleiman Sa'adu Matazu, FSTAN, member, Associate Prof. Emmanuel Chike Onwe, member, Barrister Iliya Adamu Haruna, member. Other members are Arch. Mrs. Halima Auta, Mr. Moses Kolawole, Rev. Professor Stephen Oluwarotimi Baba, Reverend Tom Jessurun, Prof. Musa Dankyau, Professor Nuhu Gado, Associate Prof. Lucy Idoko and Dr. Barnabas Z. Abesadu, while Dr. (Mrs) Esther J. Dyaji, the Registrar of the University will serve as Secretary to Council.

The Chairman of the new Governing Council, Prof. Andrew Haruna, responding on behalf of other members , appreciated the Chairman and members of the Board of Trustees for the opportunity to serve. He pledged on behalf of members that they shall do their best in making sure that Bingham University continues to occupy its place of honour and grow from strength to strength among academic citadels both home and abroad.

Prof. Haruna paid glowing tributes to the immediate past Council and previous Councils for their roles towards the steady growth of this great institution. The Chairman stated that the new Council under his watch will continue to give policy direction to the University, while the Vice-Chancellor and his team run the day-to-day affairs of the University as provided by law.

The Chairman of the outgone Council Gen (rtd) Martin Luther Agwai, who was ably represented by Council member, Prof. James Saliba, thanked God Almighty and Chairman and members of BOT for finding them worthy to serve in the last five years.

The Chairman was full of appreciation to all members of Council and Management for the harmonious working relationship and providing a conducive environment for their work as a Council to succeed. He called on all and sundry to bestow the same support to the new Council to enable them succeed.