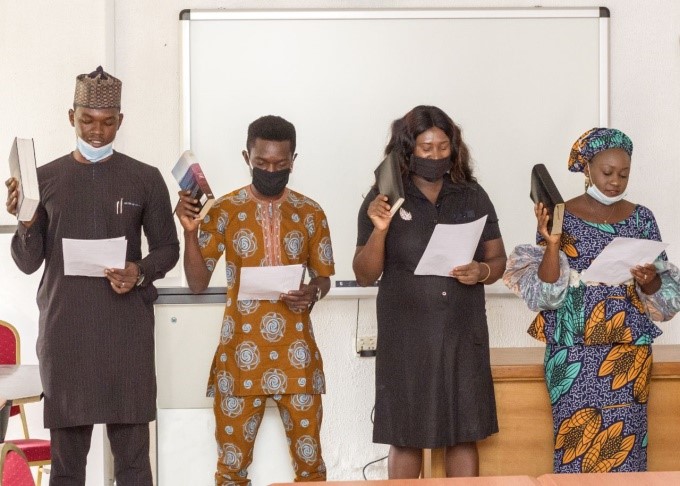 Alumni Association Of Bingham University Inaugurates New Executives
Published on: Nov 24th, 2020
The Alumni Association of Bingham University (AABHU) recently inaugurated new sets of executive that will oversee the affairs of the Association for the next three years.
The swearing-in ceremony took place at the Senate Chamber, Bingham University, Karu with the University Barrister, Anne K. Madugu ably represented by Barrister Kelechukwu Okoroafor, Esq who administered the oath of office on the 6 man executive.
Barrister Kelechukwu charged the new executive to take the oath of office seriously as its binding on them. He expressed great delight to be assigned the duty and further admonished members of the Alumni Association present and in diaspora to work assiduously in supporting the new executive.
The newly inaugurated executive are Artimas Kingsley – National President; Felix Oluwayanmife Odofin – National General Secretary; Grace Itapson Esin – National Assistant General Secretary; Salifu Grace Nima – National Financial Secretary; Mbagwu T. Tochukwu – National Director of Socials; and Olokun Alexander Lanzema – National Treasurer.
The election into the various offices was held virtually on May 2nd, 2020 during the Covid-19 induced lockdown.