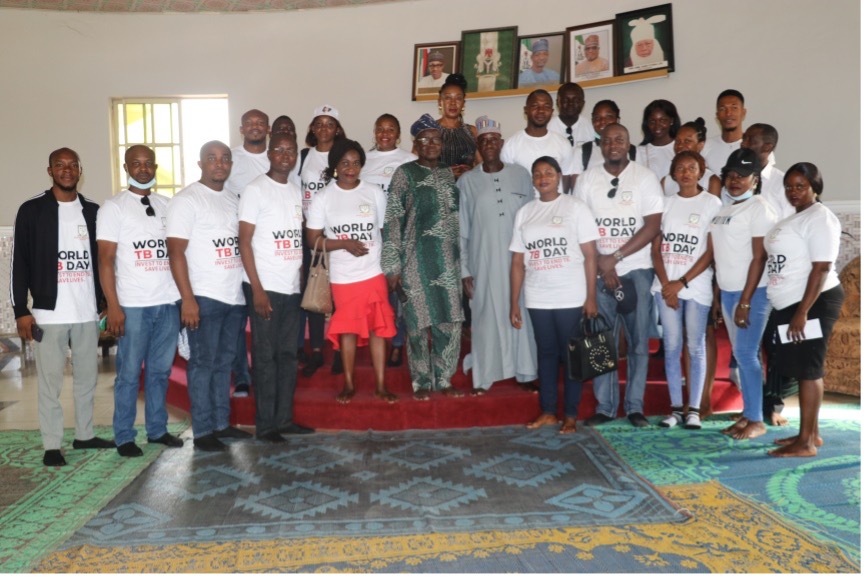 Zankli Research Centre In Collaboration With The Light Consortium Commemorates World Tuberculosis Day
Published on: Jun 27th, 2022
Zankli Research Centre of Bingham University recently commemorated World Tuberculosis day, with a road walk and symposium.
The road walk started from the Bingham University's gateway with a stopover at the palace of the District Head of Kodape Community in Nasarawa State, the host community of Bingham University. The Director of Zankli Research Centre, Dr. John Bimba intimated the District Head of the purpose of the courtesy visit. He stated that the World TB Day was an annual event, falling on March 24th each year, which is designed to build public awareness that tuberculosis today remains an epidemic in much of the world, causing the deaths of nearly one-and-a-half million people each year, mostly in developing countries. He added that the state has testing centres which will aid early detection, noting that the treatment is free.
His Highness, Sabo Fyenu, in his remarks thanked the Team for creating such awareness as information is key in combating the epidemic and called on the team to be free in passing the information to the people within his domain.
In his remarks at the symposium, Vice-Chancellor William Barnabas Qurix OFR represented by the Dr. Angela Danborno called for continuous awareness in combatting TB. He was particularly proud of the efforts the Research Centre had been making. He also thanked all the resources persons that contributed in marking the day.
Dr. Charles Esekhaigbe from the Initiative for Prevention and Control of Disease (IPCD) in his lecture titled "Investing in Tuberculosis Saves Lives" emphasised the need for more funding to combat the infectious disease. He noted that the disease can be spread from person to person of which ¼ of the world's population was infected. Worldwide, TB is the 13th leading cause of death and the second leading infectious killer after COVID-19 (above HIV/AIDS).
Dr. Charles stated that Nigeria has been ranked first in Africa and the sixth globally among the 30 high tuberculosis infected countries of the world. He added that each day, over 4,100 people lose their lives to TB and close to 28,000 fall ill due to the disease.
In his final note, Dr. Charles said that the World Health Organisation (WHO) has called for an urgent investment of resources, support, care and information into the fight against TB. An estimated 66 million lives were saved through TB diagnosis and treatment between 2000 and 2020. He ended with the Phrase "give more, do more, end TB now".
The Director of Zankali Research Centre was full of appreciation to participants and called on more involvement in combatting TB adding that the Research Centre has state-of-the-art facilities and is fully involved in combating the epidemic.